PRWEB) September 28, 2009 --
MutualArrangements.com
thundered into the world of Sugar Daddy Dating recently, celebrating its Grand Opening. The fast growing site, which already boasts tens of thousands of members in the U.S. and worldwide, is based in Miami Beach, FL, widely known as a hub for wealthy men and gorgeous women.
The site's launch follows two years of careful research, planning and development. Mutual Network CEO Donald Hobbs commented, "Sugar Daddy Dating is one of the hottest and most popular trends in the online dating marketplace, and we believe that we've done a thorough job of studying the market and incorporating the best online features into Mutual Arrangements."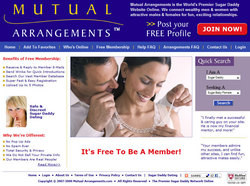 Sugar Daddy Dating is a spin on "wealthy dating" sites - focusing on generous benefactors, known as Sugar Daddies and Sugar Mommies, who are looking to pamper and spoil younger single women and men, known as Sugar Babies. The Sugar Daddy Dating niche has been receiving lots of attention recently, with features on such high-profile media outlets as The New York Times, Dr. Phil, 20/20 and more.
Hobbs continued, "We have been overwhelmed by how many of our site's visitors quickly become our newest members. We believe that to be a tribute to Mutual Arrangements' ease of use, the right mix of features for our members, and a genuine demand in the market for a reputable, trustworthy Sugar Daddy site. We're just excited to be here, and our members seem to be as well!"
Hobbs and his team have a combined 23 years of experience in the world of online matchmaking sites, but this is their first foray into the Sugar Daddy Dating niche. "What our experience has taught us is that members expect websites they trust to be totally secure with their personal information", Hobbs said. "They don't want pop-up ads in their face or the risk of picking up an online virus. And they want prompt, responsive customer service when they have questions."
Membership is free at Mutual Arrangements, with additional features available for Premium members. All basic memberships allow users to fill out information about themselves, search for other users in the extensive database, "wink" at other members, post up to 5 photos of themselves, and write an extensive introduction about themselves if they wish - all for free!
For more information about Mutual Arrangements, visit
MutualArrangements.com
.
Follow us on
Twitter
!